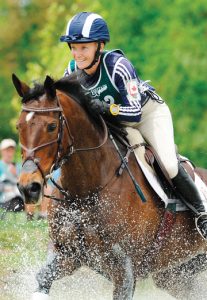 Saturday, May 20, 2023: Show Jumping in Sand Arena
Sunday, May 21, 2023: Cross Country on Grass Terrain
Clinic Information:
Intro through Novice/Preliminary levels offered.
A grab-and-go lunch will be provided for riders on both days.
Equipment to consider: breast plate, spurs, bat, extra bridle, studs, and a groom to ensure riders can promptly arrive for ride times.
Description of Levels Offered:
Introductory: For riders/horses who are new to eventing but are capable of jumping a 2-foot course.
Advanced Elementary: Rider/horse must be able to jump a 2'3″ course with cross country experience or are moving up to Advanced Elementary.
Beginner Novice: Rider/horse must be able to jump a 2'7″ course or are moving up to Beginner Novice.
Novice: Rider/horse have competed at the Novice level or are moving up to Novice.
Training/Preliminary: Rider/horse have either competed at the Training level or are moving up to the Training or Preliminary level.

Fees & Payment Information:
Once the application is submitted, immediate full payment is required to reserve spot. Payment can made via mailed/dropped off check or PayPal (@palmerriver, friend to friend, note includes rider name and clinician name).
$450 (per horse, both days required) which includes one (1) auditor pass.
Auditing otherwise: $30 for one day, $50 for both days
D

ry stall: $100 for Friday night through duration or clinic that includes 1 bag of shavings and buckets if needed.
Refund Policy:
Closing date is May 5, 2023 or when full.
If event is cancelled or if a rider cancels before closing date, a refund will be offered minus $25 office fee.
No refunds for cancellations after closing date unless spot able to be filled by another rider.
Stable Rules:
*NO DOGS OR SMOKING*
Please respect our facility and keep both aisles and common areas clean at all times.
Let the farm know what time you will be arriving if you are staying overnight.
Offload horses and equipment in the field below indoor arena. There will be carts available to unload equipment.
Lights out at 8pm unless notified.
Stalls should be cleaned but shavings can be left at completion of stay.