SCHOOL VACATIONS and HOLIDAYS:

Presidents Day, Monday,  February 18th
February Winter School Vacation,  Monday, February 18th – Friday, February 22nd
March School Vacation, Monday March 11th – Friday March 15th, Monday March 18th – Friday, March 22nd
Spring School Vacation, April 15th – 19th
Memorial Day, Monday, May 27th
Horsemanship Camp is open to boys and girls ages 7 to 16. Campers do not need
to have prior riding experience to participate. Activities will include grooming, tacking, riding, basic stable management and most important safe horsemanship. Children will build confidence, self-esteem, and leaderships skills that last a lifetime. Campers may sign up by submitting the attached application and waiver as well as a non-refundable deposit of $100 (PER WEEK / PER CHILD )

SIGN UP FOR CAMP

Download our Camp Registration Form
Download our Camp Waiver (PDF)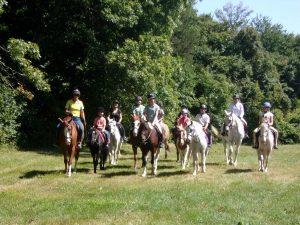 Pickup/Drop off Times: 8:30 AM drop off, 2:30 PM pick up. Extended day is available for $15.00 per hour. Campers should bring a lunch, snacks, and drinks. Extra socks, gloves, boots, and pants are advised for winter horsemanship camps (*Snow boots and snow suits are also acceptable). Campers will be provided a safety approved riding helmets.
Camp Prices*
Summer Camp    $85.00/day (Full Payment Required) OR $350.00/Week  ($100.00 deposit Per Week Per Child)**
Winter Camp, School Vacation and Holiday Camps        $85.00/day OR $350.00/week**
**Contact us by phone 508-252-6347 or email prec173@comcast.net to reserve your place!