Exciting news!!   Our cross-country course is in the process of being remodeled.   We will have visual updates as we continue to progress for the 2018 Horse Trial season.    Here are just a few examples!
Palmer River is especially proud of its cross-country course, which formerly was the host of an annual sanctioned event. The course is being carefully redesigned, and now features a variety of challenges including banks, drops, open ditches and a water crossing. All jumps are designed to be horse-friendly but are also laid out in a way which will challenge the speed, boldness, endurance, and jumping ability of the horse and test the skill of the rider. The jumps range in height from 2′ to 3'3″.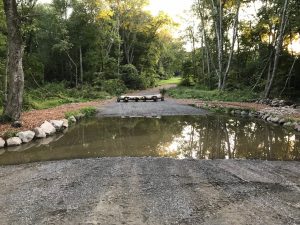 2018 Horse Trial Dates
May 6th    (Open Mar 20/Close May 1)  Dressage Judge:  Carol Mayo
July 15th    (Open May 29/Close July 5)  Dressage Judge:  Nancy Young
Nov 4th    (Open Sept 18/Close Oct 29) Dressage Judge:  Patty Montana
Fee: $115 per division, $25/class dressage only ($20 for HT riders to do an additional test)
Divisions featured:
Pre-Elementary   (18″, USDF 2015 Walk Trot Test B)
Elementary (2′, 2018 USEA Beginner Novice TestA)
Advanced Elementary (2'3″, 2018 USEA Beginner Novice Test A)
Beginner Novice (2'7″, 2018 USEA Beginner Novice Test B)
Novice (2'11", 2018 USEA Novice Test A)
Palmer River HT 2018 Entry Form
Schooling the Course
The cross-country course is one of the largest schooling courses in the area and is available to outside clinicians and instructors. The charge for schooling is $50 (per horse and rider).   Safety helmets & vests, a ground person – preferably an instructor- and a cell phone are required.   You will also need a signed waiver attached below.   Please call at least 24 hours in advance.